We've got rave reviews on our Persian recipes and we have a new one for you! Gheimeh is a delicious stew that's up on the popular Persian recipes with
loobiapolo
and
ghormeh sabzi
. Serve it with some
salad shirazi
for a complete Persian meal.
What is gheimeh?
Khoresh gheimeh or as it's usually called, gheimeh, is a Persian dish from the stew (khoresh) family that's usually served with rice. It's usually made with split chickpeas, lamb and spices. The word "gheimeh" itself comes from the Turkic word qiyma meaning minced meat. This is one of the most popular Persian dishes that's common in every household. There are over six variations of gheimeh based on different regions of Iran. But two of the most popular gheimeh recipes are:


This recipe includes both variations, plus a vegetarian version if you prefer not to use meat in this recipe. Gheimeh is an easy and family friendly recipe that everyone loves. It's also a common dish that's served during ashoora, a mourning day significant to Shia muslims.
Khoresh gheimeh ingredients
To make this delicious Persian stew, you need a few ingredients that you can find in almost any supermarket:
Onion
Lamb
Split chickpeas
Turmeric, cinnamon, salt and pepper
Tomato paste
Dried lime (Amani lime)
Eggplants or potatoes (depending on the version you're making)
What cut of lamb should I use?
If your supermarket sells stew lamb, that's the best choice for this recipe. However, boneless leg of lamb works as well if you cut it into small bite size pieces. For this Persian stew recipes, you need boneless pieces of lamb.
Can I use beef instead of lamb?
Traditionally, Persian stews are made with lamb but I've made them with stew beef and it works well. So if you cannot find lamb, or simply are not a fan of it, you can easily use beef instead.
Split chickpea
Also known as
chana dal
or
lappeh(

لپه

)
in Farsi, this legume is the main ingredients of khoresh gheimeh in Iranian cuisine.
How to make Persian gheimeh recipe
Iranian usually use a pot and their gas stove to make gheimeh or any other kind of stew. However, with all the kitchen devices such as slow cooker and instant pot available to everyone now, it could be useful to have instructions for each of them.

Stove top:
Heat oil in a pot and saute onion until golden brown.
Add in stew meat and spices, sear until the stew meat pieces are brown on all sides.
Add split chickpeas, tomato paste and water. Bring to simmer and cook until the lamb and split chickpeas are completely cooked.
While the stew is cooking, fry potatoes or eggplants.
Pierce amani limes with a fork and add them to the simmering stew. Let them cook for a few minutes until they soften.
If serving gheimeh with fried eggplants, place them in the stew for a few minutes before serving.
If serving with potatoes, simply top the stew with French fries right before serving.

Slow cooker:
Saute onion in a pan until golden brown.
Add in stew meat and spices. Sear until the meat is brown on all sides.
Transfer the meat and onion to the slow cooker. Add in split chickpeas, tomato paste and water.
Stir well to make sure everything is well combined.
Cook on high for 4 hours or until the meat is completely cooked.
Poke holes into the amani limes with a fork and add them to the stew. Cook on low for 30 minutes.
Serve with fried potatoes or fried eggplant.

Instant pot:
Cook split chickpeas in a sauce pan with water and a pinch of salt. This will take about 20 minutes. You don't want the split chickpeas to be mushy, just cooked. So please keep a close eye.
Press "saute" button and heat some oil in the instant pot.
Saute onion until golden, add in the lamb and spices. Sear until brown.
Add in tomato paste and water. Lock the lid and press the "pressure cook" button.
Set the timer for 25 minutes.
Once the time is up, do a quick release and open the lid. Try a piece of lamb to make sure it's cooked.
Add the split chickpeas to the stew. Pierce holes into amani limes and add them to the stew as well.
Press "saute" button again and cook with the lid off for about 10 minutes or until the limes are soft.
Serve with fried eggplants or potatoes.
Can I make vegetarian gheimeh?
Absolutely. If you would like to make vegetarian Persian gheimeh, you can simply leave out the lamb. It's not necessary to add any other ingredients instead of meat but if you're looking for a substitute, white button mushrooms are a good option.

What to serve gheimeh with
All Persian stews are traditionally served with Persian white rice (chelow). However, you can also serve them with saffron rice, instant pot white rice or even instant pot brown rice. I also love having the leftovers with a piece of bread.

Ingredients
▢ 2 tablespoon vegetable oil
▢ 1 large onions finely chopped
▢ 1 lb lamb cut into stew meat pieces
▢ ½ teaspoon turmeric
▢ ½ teaspoon salt
▢ ¼ teaspoon black pepper
▢ ⅛ teaspoon cinnamon
▢ 2 cups split chickpeas chana dal
▢ 3 tablespoon tomato paste
▢ 6 cups water
▢ 5 dried Persian limes amani lime
▢ 6 Chinese eggplants washed and peeled
▢ 4 russet potatoes washed and peeled
Instructions
Heat oil in a pot over medium heat.
Saute onion until golden brown.
Add in the lamb, turmeric, salt, pepper and cinnamon. Sear until the lamb is brown on all sides.
Add split chickpeas and stir well.
Add in tomato paste and water.
Bring to boil and simmer over medium low until the lamb is cooked.
Pierce holes in the dried limes using a fork and add the to the stew. Let it simmer for another 10 minutes.

For gheimeh bademajn (With eggplant)
Wash and peel the eggplants. Cut them in half widthwise and then in half lengthwise.
Sprinkle some salt on them and place them in a colander. Let them sit for 30 minutes.
Rinse and dry the eggplants.
Heat 4 tablespoons vegetable oil in a pan over medium heat and fry the eggplants for about 4 minutes on each side until cooked.
When ready to serve, gently add the eggplants to the stew and let them simmer for 5 minutes. Serve the stew with white rice.
For gheimeh sibzamini (with potatoes)
Wash and peel the potatoes. Cut them into sticks.
Heat oil in a pan over medium heat.
Fry the potatoes in the oil until they're soft and golden brown.
Season with salt.
Serve the stew in bowls and top with fried potatoes.
Suggested Products
---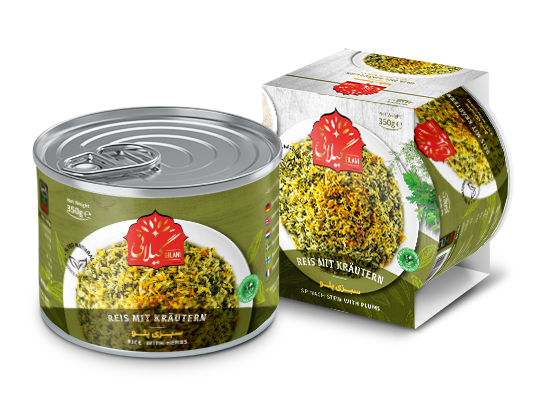 Fry the fish, open the fish canned food, Gilani vegetable rice is ready
0 Toman
Order
The unique properties and taste of sweet corn in Gilani corn soup
5 % 132,700 126,065 Toman
Order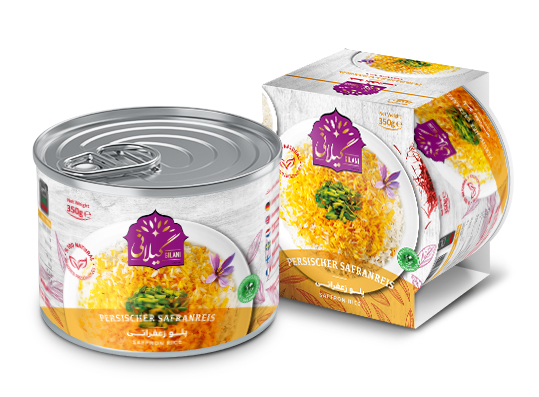 Isn't the stew and rice ready? Canned Gilani saffron rice is for this time
88,500 Toman
Order
The blessing of the earth, the same delicious and original Samanoo! try it
5 % 12,700 12,065 Toman
Order