Ghormeh sabzi
is considered to be the national dish of Iran, a Persian herb stew consisting of lamb, red beans and a variety of herbs that is loved by all Iranians. It is known as one of the most prominent dishes in Persian culinary heritage, an ancient classic recipe that has been passed down from mothers to daughters and generation to generation.
Ghormeh sabzi
is hard to forget for those who have tried it. At first, you will be mesmerized by its unique aroma, the taste of its rich dark green herby gravy is pungently sour with a hint of bitterness. It all comes together with fork-tender beans and slow-cooked lamb that will melt in the mouth.
Stews are a big part of Iranian cuisine.
Ghormeh sabzi
along with
Fesenjan
and
Gheimeh
are an important part of our culinary tradition and also the most common Stews cooked by all Iranians.
Ghormeh Sabzi Ingredients
Ghormeh
comes from the route "Ghavurmagh" meaning "braised" in Azeri and
sabzi
is the Farsi word for herbs. This tangy, stew is made mainly with braised meat mainly Lamb, a mixture of sautéed herbs, beans, and dried lime.
Ghormeh sabzi
's flavourful and aromatic herbs consist mostly of parsley, coriander, chives and it's key herb fenugreek.
Variations of Ghormeh Sabzi
This stew is cooked with some slight variations in different parts of Iran. Some families cook it by adding a little tomato paste or chopped tomatoes. Another difference could be the type of beans.
Ghormeh sabzi
is mostly cooked with red kidney beans, but pinto beans or even black-eyed peas are common as well. Some people might also add spinach and dill and call it Khoresh Sabzi (Herb stew).
Traditionally,
Ghormeh sabzi
is made with lamb chunks that are cut into 2-inch pieces. You can also use bone-in meat as it would give the stew more flavour. Beef stew meat can also be used but this doesn't mean that you can't omit the meat altogether. To make a
vegetarian
Ghormeh sabzi
simply leave out the meat from the recipe. The variation of herbs and kidney beans will still give it that unique flavour.
To cook Ghormeh Sabzi you need to start with piking through the herbs, add all in a large bowl or separately in smaller ones and fill with cold water. Agitate with your hand a few times and let the herbs sit in water for about 10- 12 minutes to loosen any possible gravel.
Transfer the herbs to a colander, rinse a few times then set aside to drain completely, before chopping them finely. The herbs are chopped very fine to give
Ghormeh sabzi
its dark green look. You can use dried herbs instead of the ones you don't find fresh such as fenugreek or chives.
Add the herbs and 1/4 cup vegetable oil to a non-stick pot. Sauté over medium-high heat for about 15 minutes and stir frequently until you smell the aroma of the herbs. This is a very important step in making Persian herb stew.
If you are using dried fenugreek or any other dried herbs, add them right at the end to avoid burning. Then remove from the heat and set aside.
Fenugreek is widely used in Indian cooking and is available fresh, frozen or dried in Indian stores. You can definitely find it dried in most Persian or middle eastern stores as well.Heat vegetable oil in a large pot and sauté onion until light and transparent. Add in the 2-inch lamb chunks and turmeric. Cook for about 5-7 minutes, stirring occasionally until the lamb is seared on all sides. Add in water, and bring it to boil.If using dried kidney beans, soak them in water for at least 3 to 8 hours ahead or overnight. Rinse the soaked beans and add them to the lamb.
Canned beans
can be used as well. If using canned beans, drain and add them in the last hour of cooking as they're already cooked
Add in the sautéed herbs. Cover and cook for another 1 hour, or until the lamb and beans are fully cooked.
I personally like to add tomato powder or a small amount of tomato paste as I believe it balances the flavour perfectly. Make sure you season with salt and pepper.
Pierce the dried limes with a fork before adding them in the last hour of cooking. This way they will gently release their juice and aroma while simmering and the sourness of the stew would be just right.
Persian dried lime also known as black lime is a key ingredient of
Ghormeh sabzi
as the unique citrusy and slightly bitter flavour of the stew comes from them. Limu Amani as we call it in Persian is a lime that has lost its water content, usually dried under the sun and can last for two years. They are used whole, sliced or ground, as a spice in many of Persian dishes. You can find them at Persian or Middle Eastern stores or online. You can make your own by blanching fresh limes in salted water and drying them on a rack in the sun or in an airy pantry for at least a week, or until the limes feel hard and hollow. (Turn the limes to allow each side equal access to the light source.)
If you do not have whole dried limes, dried lime powder or fresh lime/lemon juice can be added instead.
Ghormeh sabzi should be thick and not watery. When herbs simmer for a long time, they disintegrate into a thick stew. If you notice that the stew is too watery, just turn up the heat and wait for the excess water to evaporate.
When the stew is done, you will notice by its dark green colour oil separating out on the top.
Traditionally Ghormeh sabzi, like all other Persian stews, is served over aromatic steamed Persian rice "Chelo" or over golden rice Tahdig – the magnificent crunchy golden rice formed at the bottom of the pot when making Chelo.
Ghormeh sabzi can be served with most Persian side dishes mostly plain bowl of yogurt and for most Iranians, the joy of Ghormeh sabzi wouldn't be complete without a bite of raw onion with each and every spoonful.
Resource: www.persianfoodtours.com/
Suggested Products
---
The blessing of the earth, the same delicious and original Samanoo! try it
5 % 12,700 12,065 Toman
Order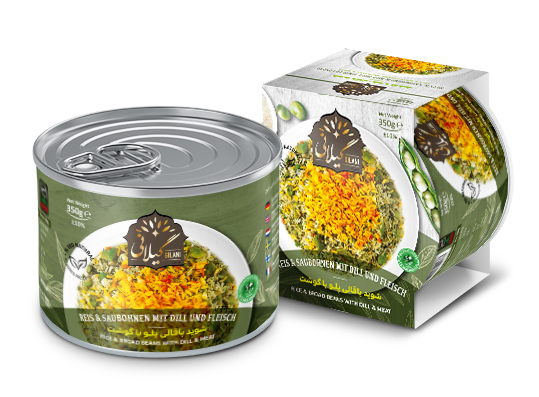 Fresh green beans, aromatic dill, authentic Iranian rice, flavorful meat and everyone likes them together.
5 % 166,900 158,555 Toman
Order
Prepared from Sargol Ala saffron, almond slices, Akbar cardamom and the best raw materials
102,500 Toman
Order
Gilani Broccoli Soup has a unique variety of taste, aroma and color
5 % 132,700 126,065 Toman
Order